'Warhorse'  the film has recently received huge popularity with its  six Oscar nominations and has made me go and have another look at the wonderful monument the Animals in War at Brook Gate, Park Lane, London
Sculpted by David Backhouse who studied sculpture at The West of England College of Art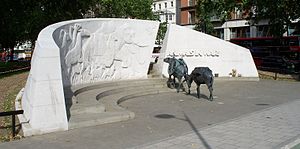 and Bristol University, the monument is a powerful and moving testament to the animals, many of whom gave their lives in service to their masters in the two World Wars.  On the memorial's website David Backhouse is quoted as saying "The themes are simple and universal: the interdependence of nature and humanity, and the search for balance and harmony. My sculptures are meditations on the human and animal condition in the modern world, reflecting loss and tragedy, hope and delight, and above all tenacity of spirit."
This sculpture is a tour-de-force, not only the wonderful design with its curved wall, but also the tenderness David Backhouse brings to each and every sculpture of the various animals, from the heavily laden mules to a horse and dog.  The relief carvings give a shadowy reminder of those animals who died serving the country.
There are inscriptions on both sides of the wall which divides the edifice, including the name of the monument and information about theatres of war and the numbers of animals lost.
'This monument is dedicated to all the animals
that served and died alongside British and allied forces
in wars and campaigns throughout time'.
A  smaller inscription  reads 'They had no choice'.
To learn more about this magnificent sculpture go to http://www.animalsinwar.org.uk
If you are not already on my emailing contact list, please let me know so that I can send you news and details of my exhibitions. Just email me at info@johnbrown-sculptor.co.uk.