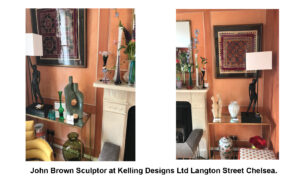 John Brown's interior sculpture is being shown at an exciting new venue at Kelling Designs https://www.kellingdesigns.com/ 3 Langton Street in the heart of Chelsea. The two sculptures shown above are, on the left, 'Unity' in bronze resin and on the right 'Paso Doble' in Ancaster Stone.  Their small size means that they are easily accommodated in most settings, shelf, coffee table or desk.
This delightful interior design showroom has clients in the residential, commercial and international fields. It is able to create beautiful schemes to suit all tastes and requirements. Sculpture can give a setting a unique touch, whether in a small corner or as a dominant focal point and John Brown's sculpture suits both modern and traditional interiors.
In addition to their capacity as experts in interior design, Kelling Designs operate an art consultancy and will guide their clients in the purchasing and commissioning of outstanding artworks.   John Brown is pleased to be part of this process; he is always willing to co-operate with potential buyers by bringing his sculpture to the client's home or workplace so that they can see the sculpture in situ.
A visit to Kelling Design can be a rewarding experience either for interior design advice, for browsing or purchasing their furniture, soft furnishings or accessories.  In addition, they hold regular events with distinguished speakers, makers and artists.